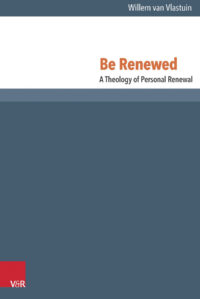 Be Renewed. A Theology of Personal Renewal, Göttingen: Vandenhoeck & Ruprecht 2014 [335 pag].
Personal renewal or sanctification belongs to the heart of the Christian life and is becoming more important in our present-day culture. Listening to Scripture and in conversation with a variety of theologians from the protestant tradition, the author presents an up-to-date concept for a theology of personal renewal.
In this concept the spiritual union with Christ (unio mystica cum Christo) is taken as the starting point in order to consider the way in which renewal obtains form in relation to God, our neighbour, ourselves and the world. To place this concept into a historical perspective, van Vlastuin begins his study with an investigation of Luther and Calvin's theology concerning the relationship between the union with Christ and personal renewal. The concept is developed within the current theological debate, with particular reference to the eschatological character of the Christian life.
An important issue concerns the measure of renewal, especially in relation to the sinful heart of the believer. In this context the author also deals with the question of sanctification as a position or a process, and the relation between the two.
In addition the relationship between the Holy Spirit and the human soul in the process of renewal is discussed. Another important issue concerns the abiding significance of the law and the way in which it functions in the Christian life. The exploration of several theological positions leads to a modern concept by which to understand law.
The study concludes with an investigation of the relationship between the eschatological Christian life in this present life and the complete revelation of the eschaton.